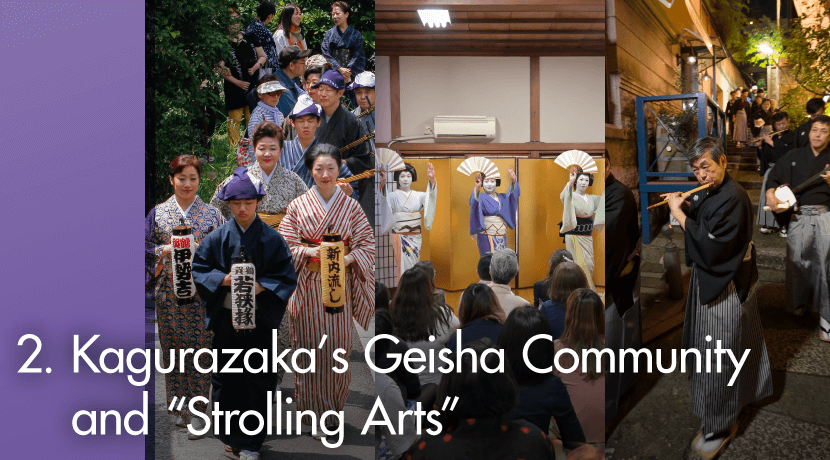 2. Kagurazaka's Geisha Community and "Strolling Arts"
We are focusing on Kagurazaka as Kagai (Geisha district), a rare to be seen town in Tokyo nowadays. We visit Tsuruga Wakasanojo, a Living Treasure of Japan, who lives in Kagurazaka. Tsuruga Isekichi, the first disciple of Wakasanojo who performs in Shinnai Nagashi at the festival presents a short phrase of "Shinnai-bushi" music. And we show the Ozashiki Asobi (Traditional Japanese Parlor Games), which is exclusive in Kagai. Along with the interview with a Geisha, you will be able to see Kenban (a lesson room for Geisha) where you are never allowed to step into. Also, we introduce Johana Hikiyama Festival‹Iori Uta›, which is also popular as Shinnai Nagashi. Please enjoy the scenery of Kagurazaka and young shamisen and Japanese flute players are strolling and performing, who visit this tour from Johana, Nonto-City of Toyama Prefecture. The navigator is a Nagauta shamisen player Tobaya Riseki, a Kagurazaka native. She wrappes up the Evening Live Music Performances at Akagi-jinja Shrine Kagura Hall with the rapid and powerful playing with Mochizuki Harumi Troupe, "Hogaku-Bayashi", Japanese traditional percussion. Tobaya Riseki, who knows about the area inside out, guides you and makes you know Kagurazaka more.
Filming cooperation
Tsuruga Wakasanojo
Tokyo Kagurazaka Association
THEGLEE
Performers
Navigator
Tobaya Riseki (Nagauta shamisen)

Interview
Tsuruga Isekichi ("Shinnai-bushi" music)
Mayumi (Leader of Tokyo Kagurazaka Geisha Association)
Kotonofuji ("Chanko" sumo wrestler's food restaurant)

Past Footage
Street Performance – Shinnai Nagashi
Tsuruga Wakasanojo shamisen troupe ("Shinnai-bushi" music)

Experiencing Ozashiki Asobi (Traditional Japanese Parlor Games)
Kagurazaka's Geishas

Street Performance, Johana Hikiyama Festival (Iori Uta)
Houtetsu Kai (Iori Uta)

Kagurazaka Street Stage O-edo Tour Official YouTube Channel
Navigator
Tobaya Riseki (Nagauta shamisen)
Raised in Kagurazaka, having experiences as a TV reporter and freelance anchorperson. Both her grandfather and father are the Living Treasure of Japan for Kabuki Nagauta. She is active from performing in abroad to introducing Nagauta shamisen to the public.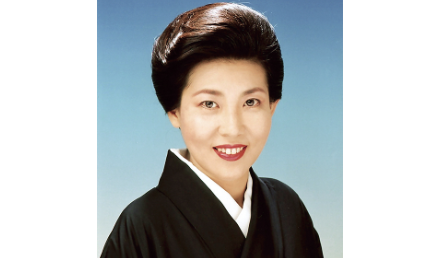 Performer
Tsuruga Isekichi ("Shinnai-bushi" music)
She is playing shamisen for the 11th master of Tsuruga School, Tsuruga Wakasanojo, who resides in Kagurazaka, and a Living Treasure of Japan for "Shinnai-bushi" music (Edo Jyoruri). In addition to join more than Wakasanojo's 30 concerts in abroad, Isekich is active in broad performances, Isekichi is taking an active role as a Jyoruri (singing-storytelling) performer, and she is allowed to be a branch of the Tsuruga School.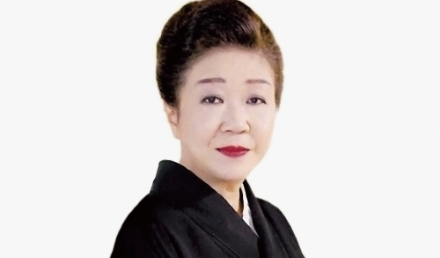 Past Footage
Tsuruga Wakasanojo shamisen troupe ("Shinnai-bushi" music)