Date&time
May 23 (Sun.) 3:30PM-
---
"Kotodama" Spirit of Words Live Performance
Masters of storytelling have been entertaining people with skillful speech since the Edo period.
In this event, "Koudan" storytelling that reads aloud the story eloquently, "Rokyoku" with unique clauses and narratives along with "Shamisen", "Gidayu-bushi" also known as "master of music" and capturing the hearts of people will be performed.
Furthermore in addition to these, Introducing "Tezuma" of Japanese classical magic.
We will take you to the world of traditional performing arts.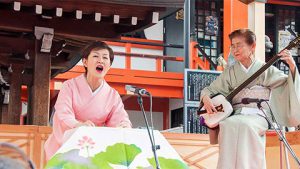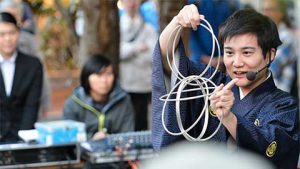 Time
3:30PM-
Performers
Fujiyama Taiju (Japanese classical magic "Tezuma")
Kanda Sanryoku ("Kodan" storytelling)
Takemoto Koshiwaka + Tsuruzawa Kazu (Gidayu-bushi)
Tamagawa Nanafuku + Sawamura Toyoko (Rokyoku)
Cyril Coppini (Navigator)
---
Evening Live Performance
"Iki" stylishness of the traditional music performed against the background of the dark sky.
A program that concludes the two-day festival.
Female musicians who are active in the front lines of "Nagauta shamisen" and "Hayashi" Japanese traditional percussion are gathering, and playing the medley of masterpiece music from Kabuki or "Nihonbuyo".
‏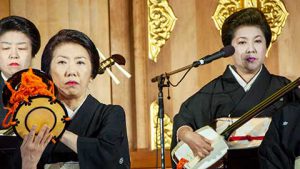 Time
6:00PM-
Performers
Tobaya Riseki Troupe (Nagauta shamisen) × Mochizuki Harumi Troupe ("Hayashi" Japanese traditional percussion)
Cyril Coppini (Navigator)